Journal Top
Last Update 6 August, 2021
Aims and Scope
The aim of this international journal is to accelerate progress in laboratory animal experimentation and disseminate relevant information in related areas through publication of peer reviewed Original papers and Review articles. The journal covers basic to applied biomedical research centering around use of experimental animals and also covers topics related to experimental animals such as technology, management, and animal welfare.
Experimental Animals Moves to Online-only Publication
Experimental Animals (EA), the official journal of JALAS, is shifting its operations from print and online publishing to online-only publication in 2020 (Vol. 69 Issue 1). The online versions can be continuously accessed via Pubmed Central (PMC) or J-STAGE (from JALAS website). The printed version cannot be sustained owing to the need to decrease the cost for producing and distributing hard copies. In 2010, the decision on the EA's shift to the online-only journal was made by the Board of Directors and, after 8 years of online and minimal print dual publication, the time has come to make the transition to an online only journal. Due to EA's shift away from print publications, its publication fee structure has been revised - this has been agreed at the last the Board of Director meeting at November 16th, 2018.
We would greatly appreciate if JALAS members could kindly understand this change and continuously support publication of EA as before.
Ichiro Miyoshi
President, JALAS
Atsuo Ogura
Editor-in-Chief, Experimental Animals
Current issue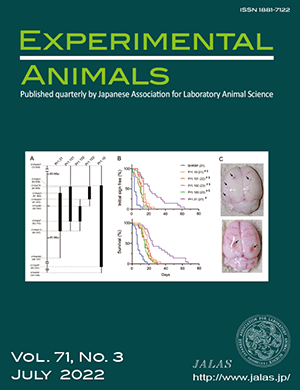 Cover: Subcongenic analysis of a quantitative trait locus on chromosome 1 affecting susceptibility to salt-induced stroke of the stroke-prone spontaneously hypertensive rat (SHRSP).
(Wang, et al., pp. 368-375)

Vol. 71. No. 3 July 2022
Original
Atsushi Kobayashi, Soichiro Mimuro, Takasumi Kat oh, Kensuke Kobayashi,Tsunehisa Sato, Truong Sang Kien and Yoshiki Nakajima

2022 Volume 71 Issue 3 Pages 281-287

Yulia Makusheva, Soo-Hyun Chung, Aoi Akitsu, Natsumi Maeda,Takumi Maruhashi, Xiao-Qi Ye, Tomonori Kaifu, Shinobu Saijo,Haiyang Sun, Wei Han, Ce Tang and Yoichiro Iwakura

2022 Volume 71 Issue 3 Pages 288-304

Shishuai Meng, Kai Kang, Dongsheng Fei, Songlin Yang, Shangha Pan, Kaijiang Yu and Mingyan Zhao

2022 Volume 71 Issue 3 Pages 305-315

Fuxiaonan Zhao, Jianhai Wang, Qi Wang, Zhili Hou, Yingchao Zhang, Xue Li, Qi Wu and Huaiyong Chen

2022 Volume 71 Issue 3 Pages 316-328

Ye Tian, Ruiting Zhao, Xiaochun Li, Ju Zhou, Daqiang Zhan, Yuanzhi Wang, Yifan He, Jiacheng Zhang and Hengjie Yuan

2022 Volume 71 Issue 3 Pages 329-337

Hiroyuki Watanabe, Haruka Ito, Ayumi Shintome and Hiroshi Suzuki

2022 Volume 71 Issue 3 Pages 338-346

Kohei Kawakami, Hiroyuki Matsuo, Takaya Yamada, Ken-ichi Matsumoto, Daigoro Sasaki and Masato Nomura

2022 Volume 71 Issue 3 Pages 347-355

Jingjing Cao, Yanhui Ni, Huaxing Zhang, Xiaoran Ning and Xiaoyong Qi

2022 Volume 71 Issue 3 Pages 356-367

Mei Wang, Hiroki Ohara, Masahiro Egawa, Shohei Fukunaga, Hiroyuki Matsuo, Zhi-Ru Ge and Toru Nabika

2022 Volume 71 Issue 3 Pages 368-375

Ning Han, Ying Su, Mi Guo and Li Yu

2022 Volume 71 Issue 3 Pages 376-384

Masaharu Yoshihara, Teppei Nishino, Naoto Sambe, Takahiro Nayakama, Freddy Radtke, Seiya Mizuno and Satoru Takahashi

2022 Volume 71 Issue 3 Pages 385-390

Keiichi Tsuji, Shinichiro Nakamura, Tomohiro Aoki and Kazuhiko Nozaki

2022 Volume 71 Issue 3 Pages 391-398

Ami Sugiura, Misa Kitamura and Yasushi Hasegawa

2022 Volume 71 Issue 3 Pages 399-410